Resources
Click here for a synopsis of the Buckley v. Valeo decision
For information on organizations involved in campaign finance reform, civil rights and democracy activities throughout the U.S., please click on the following:
For other resources including relevant books and articles, please click on the following:
Web Resources and Links
All organizations listed are involved in campaign finance reform, civic participation, civil rights, or other issues related to democracy.
Public Interest Advocacy Organizations
ACORN, http://www.acorn.org/: Association of Community Organizations for Reform Now, a nationwide community organization of low- and moderate-income families that focuses on housing, community investment, and living wage issues.
Action Agenda for Election Reform, http://www.ips-dc.org/electoral/intro.htm: a collaborative effort of the Institute for Policy Studies' Progressive Challenge Project and the Nation Magazine. This site serves as a clearinghouse for information, citizen action toolkits, and educational resources on electoral reform.
Alliance for Better Campaigns, http://www.bettercampaigns.org/: an organization that seeks to improve elections by promoting campaigns in which the most useful information reaches the greatest number of citizens in the most engaging ways.
Alliance for Democracy, http://www.thealliancefordemocracy.org/: a progressive populist movement working to end the domination of large corporations.
America Speaks, http://www.americaspeaks.org/: an organization working to strengthen democracy by creating mechanisms that are accessible to the public and reflect the realities of the 21st century.
Asian American Legal Defense and Education Fund, http://www.aaldef.org/: a legal rights organization that focuses on voting rights and removing barriers to political participation for Asian Americans.
Brennan Center for Justice, http://www.brennancenter.org/: an organization based out of NYU School of Law that works to develop and implement a nonpartisan agenda focusing on issues related to democracy, criminal justice and poverty.
Campaign Legal Center, http://www.campaignlegalcenter.org/: a non-profit organization whose mission is to advance a nonpartisan agenda by representing the public perspective in administrative and legal proceedings interpreting and enforcing the campaign and media laws.
Center for Voting and Democracy, http://www.fairvote.org/: a nonprofit that studies how voting systems affect participation, representation and governance. Issues include redistricting alternatives, the range of voting systems for legislative elections, and instant runoff voting, among others issues.
Common Cause, http://www.commoncause.org/: a nonprofit, nonpartisan citizen's lobbying organization promoting open, honest and accountable government.
Counting on Democracy, http://www.itvs.org/countingondemocracy/: investigates charges of disenfranchisement and 175,000 uncounted Florida votes cast largely by the working poor and people of color, in the most contested and controversial election in US history.
Demos, http://www.demos-usa.org/: a non-profit organization that conducts research and builds networks of civic and economic reformers to strengthen democracy and create a more broadly shared prosperity.
Fannie Lou Hamer Project, http://www.flhp.org/: a project dedicated to creating a national grassroots movement to redefine campaign finance as a civil rights issue.
Japanese American Citizens League, http://www.jacl.org/: a membership organization whose mission is to secure and maintain the human and civil rights of Americans of Japanese ancestry and others victimized by injustice.
Lawyer's Committee for Civil Rights Under Law, http://www.lawyerscomm.org/: an organization formed in 1963 at the request of President John F. Kennedy to involve the private bar in providing legal services to address racial discrimination. The Lawyer's Committee works to secure, through the rule of law, equal justice under law.
League of Women Voters, http://www.lwv.org/: a nonpartisan political organization that encourages the informed and active participation of citizens in government and works to increase understanding of major public policy issues.
Mexican American Legal Defense and Educational Fund, http://www.maldef.org/: national nonprofit organization whose mission is to protect and promote the civil rights of the more than 35 million Latinos living in the United States.
National Asian Pacific American Legal Consortium, http://www.napalc.org/: works to advance the legal and civil rights of Asian Pacific Americans through litigation, public education and public policy.
National Association for the Advancement of Colored People (NAACP), http://www.naacp.org/: an organization that focuses on the political, educational, social and economic equality of minority group citizens of the United States.
National Coalition on Black Civic Participation, http://www.bigvote.org/: a nonpartisan organization dedicated to increasing African American participation in civil society.
National Congress of American Indians, http://www.ncai.org/: the oldest national Indian organization serving the needs of a broad membership of American Indian and Alaska Native governments.
National Council of La Raza, http://www.nclr.org/: an organization established in 1968 to reduce poverty and discrimination, and improve life opportunities, for Hispanic Americans.
Native American Rights Fund, http://www.narf.org/: an organization that provides legal representation and technical assistance to Indian tribes, organizations and individuals nationwide.
NAACP Legal Defense and Education Fund (LDF), http://www.ldfla.org/: Founded in 1940 by Thurgood Marshall, LDF fights for equality and empowerment for African Americans and other disenfranchised groups in the areas of education, employment, criminal justice, voting rights, housing, health care, and environmental justice.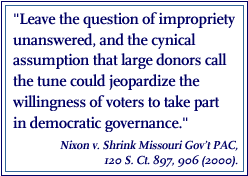 Organization of Chinese Americans, Inc., http://www.ocanatl.org/: national non-profit, non-partisan advocacy organization of concerned Chinese Americans.
People for the American Way, http://www.pfaw.org/: a political action committee formed in 1998 to hold candidates accountable, organize to get voters out to the polls and work to fight the Right.
Project Vote Smart, http://www.vote-smart.org/: a non-partisan group gathering and distributing biographical history, voting records, campaign finances and promises, and performance evaluations about elected officials and candidates.
Public Campaign, http://www.publicampaign.org/: a non-partisan organization dedicated to reducing the role of special interest money in America's elections and the influence of big contributors in American politics.
Public Citizen, http://www.publiccitizen.org/: a consumer advocacy organization that fights for safer drugs and medical devices, cleaner and safer energy sources, a cleaner environment, fair trade, and a more open and democratic government.
ReclaimDemocracy.org, http://www.reclaimdemocracy.org: an organization dedicated to restoring democratic authority over corporations, reviving grassroots democracy, and revoking the power of money and corporations to control government and civic society.
Rock the Vote, http://www.rockthevote.org/index2.html: an organization dedicated to protecting freedom of expression and empowering young people to change their world.
US Action, http://www.usaction.org/: a national coalition of social action organizations.
USPIRG , http://www.pirg.org/uspirg/: U.S. PIRG speaks for the public interest against the special interests, on issues such as electoral reform, democracy, environmental protection, consumer issues, and higher education.
Voter Rights March, www.votermarch.org: an organization whose platform calls for a Voters' Bill of Rights that includes such reforms as campaign finance reform, the extension of the Voting Rights Act, and the creation of new user friendly voting machines.
Vote, www.voteforchange.org: an organization dedicated to the proposition that in the American political system the government must represent the will of the people.
Academic Research, Policy Research and Other Resources
Ballot Initiative Strategy Center, http://www.ballot.org/: an organization working to defeat right wing initiatives and to develop a pro-active, national initiative strategy for progressives.
Brookings Institution Election Reform Project, http://www.brookings.org/GS/CF/CF_HP.HTM: this site provides information and analysis to help policy makers, journalists, and citizens deliberate on issues of money and politics. The focus of this site is campaign finance law and administration.
Campaign Finance Institute, http://www.cfinst.org/: affiliated with the George Washington University, this institute works to identify campaign finance policies that can achieve meaningful results over the long haul through research, deliberation and public education.
Campaign Reform Project, http://www.campaign-reform.org/: a nonprofit organization that strives to educate the business community about the importance of reforming campaign finance laws as a means of revitalizing the country's democratic processes and promoting business.
Campaign Finance Information Center, http://www.campaignfinance.org/: an information resource center administered by the Investigative Reporters and Editors and the National Institute of Computer-Assisted Reporting and dedicated to helping journalists cover campaigns more in-depth by following the campaign money trail.
Center for Democracy and Citizenship, http://www.publicwork.org/: a research center based out of the Hubert H. Humphrey Institute of Public Affairs, University of Minnesota.
Center for Policy Alternatives, http://www.cfpa.org/: a nonpartisan progressive public policy and leadership development center serving state legislators, state policy organizations, and state grassroots leaders.
Citizens for True Democracy, http://www.truedemocracy.org/: a California-based nonprofit dedicated to increasing civic participation via electoral reform.
Constitution Project, http://www.constitutionproject.org/: bipartisan nonprofit organization that seeks consensus on controversial legal and constitutional issues through a unique combination of scholarship and activism.
Center for Public Integrity, http://www.publicintegrity.org/: an organization whose aim is to provide the American public with the findings of its investigations and analyses of public service, government accountability, and ethics-related issues via books, reports and newsletters.
Center for Responsive Politics, http://www.opensecrets.org/: a non-partisan, non-profit research group that tracks money in politics and its effect on elections and public policy. The Center conducts computer-based research on campaign finance issues for the news media, academics, activists, and the public at large.
Council on Government Ethics Law (COGEL), http://www.cogel.org/home.asp: COGEL is dedicated to providing members with avenues for the exchange and dissemination of up-to-date information in the areas of ethics, elections, campaign finance, lobbying and freedom of information
Democracy Compact, www.pledgetovote.com: a non-partisan education and outreach campaign based in Rhode Island.
Destination Democracy, http://www.destinationdemocracy.org/: Destination Democracy is a collaborative effort of the Benton Foundation, Millennium Communications Group, and Communications Development Incorporated that explores solutions to problems in the current campaign finance system.
Independent Progressive Politics Network, http://www.ippn.org/MainHome.htm: an organization that works to build a unified, independent, progressive alternative to the corporate-controlled, Democrat/Republican political/economic system
Institute for Policy Studies, http://www.ips-dc.org/: a think tank that focuses on creating a more responsible society - one built around the values of justice, nonviolence, sustainability, and decency.
Joint Center for Political and Economic Studies, http://www.jointctr.org/: a think tank that conducts research on public policy issues of special concern to black Americans and other minorities.
National Institute on Money in State Politics, http://www.followthemoney.org/: a nonpartisan, nonprofit program that provides documentation and research on campaign finance at the state level.
National Urban League, http://www.nul.org/: a nonpartisan community-based movement that seeks to enable African Americans to secure economic self-reliance, parity and power and civil rights.
Southern Poverty Law Center, http://www.splcenter.org/splc.html: an organization that combats hate, intolerance, and discrimination through education and litigation.
U.S. Government
Federal Election Commission (FEC), http://www.fec.gov/: the government agency that administers and enforces the Federal Election Campaign Act (FECA) - the statute that governs the financing of federal elections.
U.S. Department of Justice — Civil Rights Division, http://www.usdoj.gov/crt/: the primary division within the federal government responsible for enforcing federal statutes prohibiting discrimination on the basis of race, sex, handicap, religion, and national origin.
Regional Organizations
Advancement Project of the California Association of Human Relations Organizations, www.cahro.org/html/advancement_project.html: The Advancement Project serves as a resource and organization for people working to solve public policy problems, across lines of race, ethnicity and culture.
Boston Vote http://www.bostonvote.org/: an organization that works to increase voter participation in the Boston area.
Citizen Action of New York, http://www.citizenactionny.org/: a grassroots organization fighting for economic, social and environmental justice.
Democracy South, http://www.all4democracy.org/demsouth/: a non-partisan research, organizing and advocacy organization based in North Carolina that is dedicated to helping build, strengthen, and link progressive multi-issue coalitions which can address issues of social, environmental and economic justice.
Midwest Democracy Center, http://www.midwestdemocracy.org/: non-profit membership driven advocacy organization, dedicated to making our government more democratic and representative.
Northeast Action, http://www.neaction.org/: an organization made up of political activists, community organizers and progressive elected officials dedicated to fostering a grassroots movement for social change in the Northeast where progressive individuals and communities can find joint purpose and common ground.
Other Useful Sites
American Federation of Labor-Congress of Industrial Organizations (AFL-CIO), http://www.aflcio.org/reform/: a voluntary federation of America's unions, representing more than 13 million working women and men nationwide.
Grassroots.com, http://www.grassroots.com/: a non-partisan technology and services company that provides Internet-based communications and mobilization products serving the political marketplace.
Inlet, http://www.inlet.org/: a progressive web portal with directories to organizations that deal with political activism and advocacy.
National Association of State Elections Directors, http://www.nased.org/: a non-profit, non-partisan, membership association designed primarily to provide a forum for state election officials to share information about election administration.
National Commission on Federal Election Reform, http://www.reformelections.org/: established in February 2001 to recommend ways to improve the accuracy and fairness of federal elections. The Commission will issue a final report in September 2001 to help inform the legislative efforts of the 107th Congress.
National Council of State Legislators, http://www.ncsl.org/: bipartisan organization dedicated to serving state lawmakers and staffs, serving as a source for research, publications, consulting services, meetings and seminars.