Supreme Court Case
Splintered Supreme Court overturns Vermont's campaign spending and contribution limits. Click here to read the Court's opinions, issued on June 26. To read more about the case, click here.
Ohio Recount
Elections in America are
beset by problems — faulty equipment, ill-prepared election officials, partisan shenanigans, intimidation, discrimination, and a lack
of commitment to fix them. NVRI is committed to making America's elections fair for all.
Read about our work here.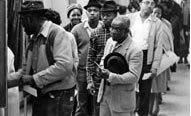 What's New