What We Do
The Constitutional Promise of Equality
NVRI believes that our unequal system of political representation eventually will be recognized as a constitutional violation. The poll tax prevented African Americans from voting until the Supreme Court finally outlawed the practice as a violation of the equal protection clause of the Fourteenth Amendment, in the 1966 Harper v. Virginia Board of Elections decision. Mandatory filing fees discriminated against low income candidates and their supporters until in 1972, when these fees, too, were held unconstitutional in Bullock v. Carter. Thus our understanding of the constitution continues to evolve.
African-Americans voting for the first time after a massive voter registration campaign. Atlanta, GA ca. 1966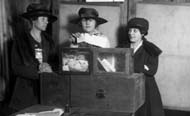 Suffragists, New York City, 1917
"Private money in public elections amounts to separate but equal accountability by public officials," Rev. Scott Douglas, an Alabama civil rights leader, told NVRI's 1999 symposium. Just as "separate but equal" education fell with the Supreme Court's 1954 Brown v. Board of Education decision, so shall "separate but equal" political representation be defeated as well, though the courts and through grassroots activism.